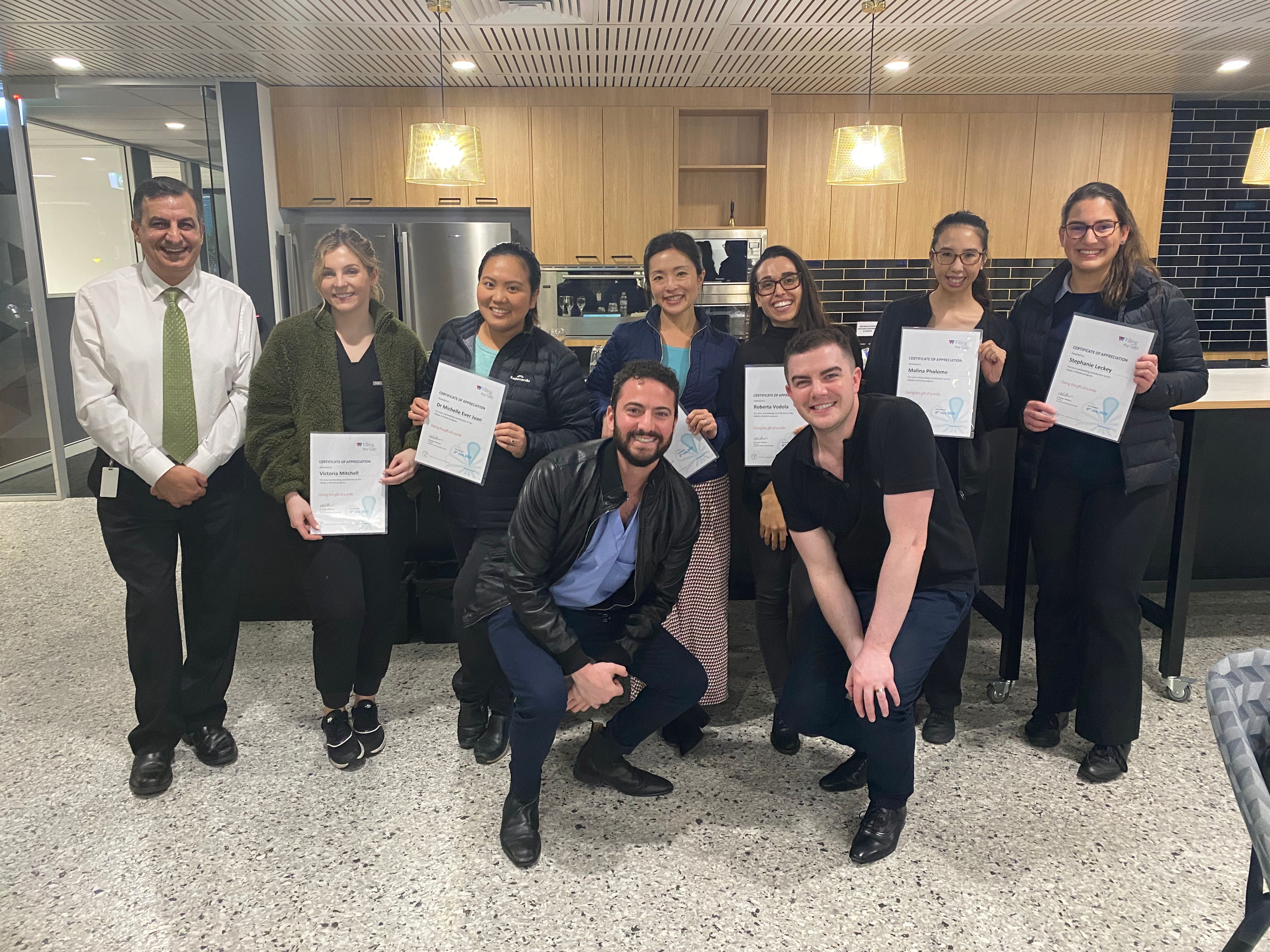 Free dental treatment worth more than $8,000 provided at Filling The Gap's dental charity clinic
Posted on July 10th, 2020
Four dental teams have carried out $8167 worth of free dental treatment for 21 patients at Filling The Gap's latest dental aid clinic.
Disadvantaged patients from partner charities including the Jesuit Refugee Service (JRS), Bobby Goldsmith Foundation, William Booth House, The Station and the Australian Dental Health Foundation received pro bono treatment at the clinic. The clinic took place on Wednesday 8 July and was one of many clinics from Filling The Gap this year – a registered charity formed by the Australian Dental Association to help vulnerable people access oral care.
Four volunteer dentists were involved on the day, including two returning volunteer Dentists and two new Dentists to the clinic. The volunteer dentists included Dr Andrew Dean, Dr Michelle Ever Juan, Dr Lynette Yen and Dr Ibrahim Al Salti. This was Dr Lynette Yen's first visit to the clinic and she had a calm and professional demeanour that made patients feel comfortable. Dr Ibrahim Al Salti, who is bilingual, was able to treat and speak with the Arabic patients and made the patients feel welcome. Dr Andrew Dean has previously participated generously volunteering his time whilst Dr Michelle Ever Juan thoroughly enjoyed being at the clinic and especially her patient who brought in 'Tiny' the therapy dog.
The day would not have been possible without the outstanding team of four volunteer dental assistants, alongside ADA NSW staff and volunteers from the JRS who provided translation services. Chair of Filling the Gap and ADA NSW Vice-President Michael Jonas was also in attendance on the day. Eleven patients have now been invited back for future treatment at the FTG clinic whilst two patients have been referred externally for endodontic services, with one to see an oral surgeon. The next Filling the Gap clinic will be held on Saturday, July 18.
With special thanks to Henry Schein Halas for donating more than $1000 worth of products and consumables for patients at the clinic. Filling the Gap also thanks NSW Health for their ongoing support of our services.
"This clinic is a reminder of what can be achieved when people come together – individuals, corporates and government. Dentists and dental professionals worked alongside ADA NSW staff and were supported by Henry Schein Halas and NSW Health. There has never been a more important time to help those who are less fortunate," Kate Miranda, General Manager of Filling the Gap, said.
FIND OUT MORE:
Interested in volunteering in one of our clinics? To find out more, phone (02) 8436 9946.
> Upcoming volunteering opportunities, click here
> For more detail on volunteering for a charity day, click here.
(Top pic caption: ADA NSW CEO Stes Stengos with the volunteer dental teams at the latest Filling The Gap dental charity clinic which was held on Wednesday 8 July).