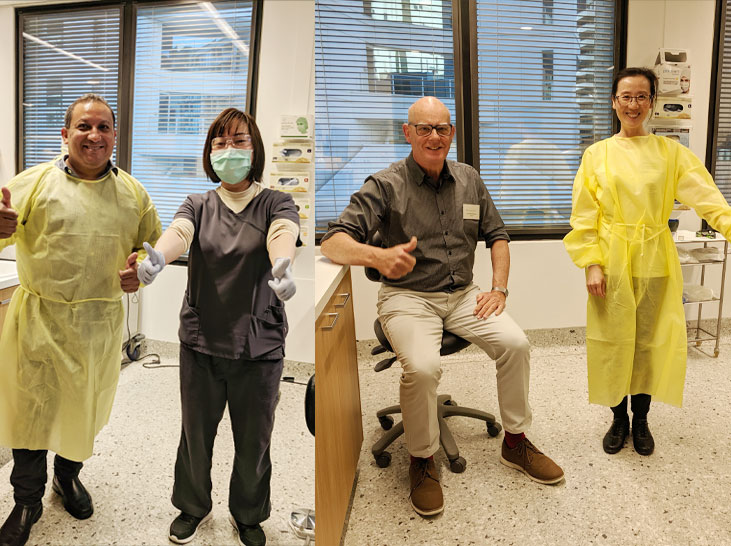 Free dental treatment worth more than $12,000 provided at Filling The Gap's latest dental charity clinic
Posted on September 18th, 2020
Four dental teams have treated 28 patients and carried out more than $12,000 worth of free dental treatment in the latest Filling The Gap dental charity. Disadvantaged patients from eight partner charities were represented at the clinic including Bobby Goldsmith Foundation, William Booth House, Jesuit Refugee Service, The Salvation Army, Asylum Seekers Centre, William Booth House, Stride, NSW Refugee Service and The Station.
The clinic was one of many from Filling The Gap this year which is a registered charity formed by the Australian Dental Association to help vulnerable people access oral care. Five volunteer dentists attended the FTG Clinic including two returning volunteer dentists, Dr Andrew Parsons and Dr Hany Gerges. There were also three new volunteer Dentists including Dr George Guirguis, Dr Su Thapaliya and Dr Muhammed Khan.
Dr Andrew Parsons and Hany Gerges provided an excellent service to our patients and did a fantastic job making new volunteers feel welcome and supported. Dr George Guirguis, Dr Su Thapaliya and Dr Muhammed Khan had a wonderful first experience to the clinic. They expressed how much they enjoyed their first volunteering with FTG and expressed an interest in volunteering for upcoming clinics. All volunteer dentists did a fantastic job on the day. We thank them for their time and expertise.
Dr Muhammad Khan mentioned that he had wanted to do some volunteer work for some time to give back to the community. Dr Muhammad currently serves as a Dental Officer in the Australian Army. Alongside his full-time commitment to the Australian Defence Force he still managed to find the time to offer his expertise to help Australia's most vulnerable patients and looks forward to another volunteering opportunity with Filling the Gap.
We were privileged to have three volunteer Dental Assistants present at the clinic.  Michelle Zhong a returning volunteer Assistant, Yousef Faoor and Kelela Pasina two new Volunteer Dental Assistants. A total of two patients received dentures and 20 patients have been invited back for further treatment.
These clinics would not be possible without the generous support of our partners. Special thanks to Henry Schein Halas for donating $500 worth of products and consumables for patients at the clinic.
FIND OUT MORE:
Interested in volunteering in one of our clinics? To find out more, phone (02) 8436 9946.
> Upcoming volunteering opportunities, click here
> For more detail on volunteering for a charity day, click here