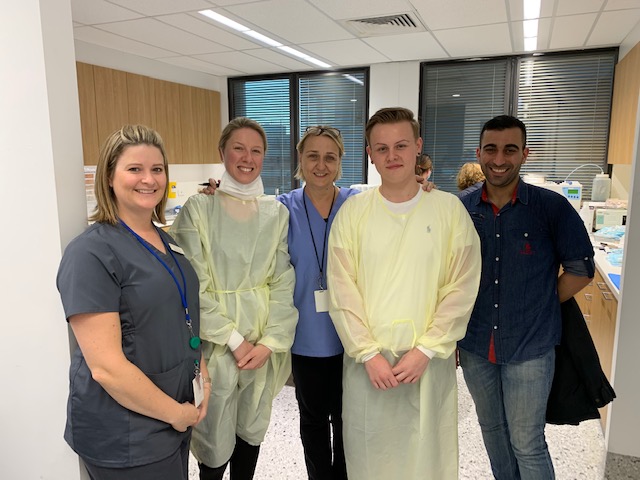 ADA NSW Red Cross Clinic Gives the Gift of Smiles this Winter
Posted on June 1st, 2019
• 28 patients were treated including four children aged between three and 10 years
• Treatment worth more than $12,000 was provided
• 15 different languages were spoken
• Patients came from five charity partners.
• On 1 June, an ADA NSW Red Cross Clinic treated 28 patients and provided treatment worth more than $12,000.
The patients were referred by five of our charity partners including Australian Red Cross, Jesuit Refugee Service, House of Welcome, Asylum Seeker Centre and The Salvation Army. For the first time, two fourth year dental students from Sydney University volunteered in the clinic.
Clinical Supervisor Dr Jane Pinchback said every volunteering position offered a unique opportunity to engage with the wider community and had been hugely rewarding.
"I'll always remember the smiles of the asylum seeker patients who come back for repeat treatment visits, they are so happy and grateful for all the wonderful care they receive.
"Everyone is so generous, it is just a lovely environment to be in. We are blessed to have such a warm and wonderful ADA NSW family of dentist volunteers. Many clinicians are surprised by how much they gain from volunteering and return time and again."
ADA NSW Staff:
Dr Jane Pinchback – Clinical Supervisor
Three NSW CPD staff – Hayley Smith, Gitti Zachman, Queenie Chen
Kate Miranda – Head of Communications and Public Affairs, ADA NSW
Walid Mojadidi – Australian Red Cross
Volunteer Dentists:
Dr Natalie Wong
Dr Po Ching Lu
Dr Veroncia Lee
Dr Shu-Ann Hu
Dr Helen Muller
Dental Assistants:
Harrison Rutherford
Rami Osman
Yvonne Lim (4th year dental student, Sydney University)
Frances Ershad (4th year dental student, Sydney University)

Patients from these charity partners:
Red Cross
Jesuit Refugee Service
House of Welcome
Asylum Seeker Centre
The Salvation Army
ADA NSW holds regular dental aid clinics at St Leonards in Sydney. We always need volunteers. To get involved or find out more, contact [email protected] or 02 8436 9942.