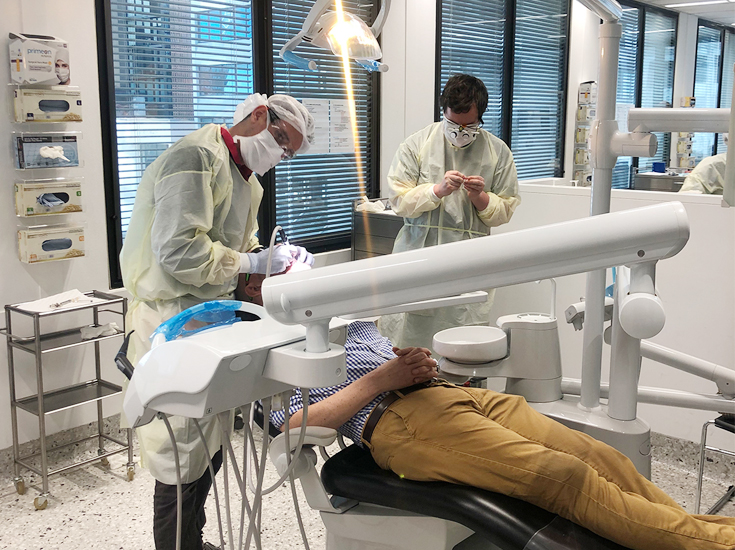 Free dental treatment worth $10,200 provided at Filling The Gap's dental charity clinic
Posted on August 22nd, 2020
Four dental teams have carried out approximately $10,200 worth of free dental treatment for 27 patients at Filling The Gap's latest dental aid clinic on Saturday, 22 August. Disadvantaged patients from seven partner charities were treated at the clinic, including patients from the Bobby Goldsmith Foundation, William Booth House, Jesuit Refugee Service, The Salvation Army, Asylum Seekers Centre, William Booth House and The Wayside Chapel. The clinic was one of many dental aid clinics run by Filling The Gap this year. Filling the Gap is a registered charity formed by the Australian Dental Association NSW to help vulnerable people access oral care.
There were eight volunteer dentists and dental assistants, supported by FTG and ADA NSW staff, who worked on the clinic. The day would not have been possible without the outstanding team of eight volunteer dentists and dental assistants who worked alongside Filling the Gap and ADA NSW staff.
"As a result of COVID-19, health professionals are carrying an extra burden through their role caring for others. Dentists are no exception. The volunteers who freely give their expertise and time to help some of the most vulnerable in our communities during this pandemic are among the most caring health professionals," Kate Miranda, General Manager of Filling the Gap, said.
With special thanks to One Dental for donating more than $600 worth of products and consumables for patients at the clinic. Filling the Gap also thanks NSW Health for their ongoing support of our services. A total of 15 patients will be returning to Filling the Gap for further treatment.
FIND OUT MORE:
Interested in volunteering in one of our clinics? To find out more, phone (02) 8436 9946.
> Upcoming volunteering opportunities, click here
> For more detail on volunteering for a charity day, click here