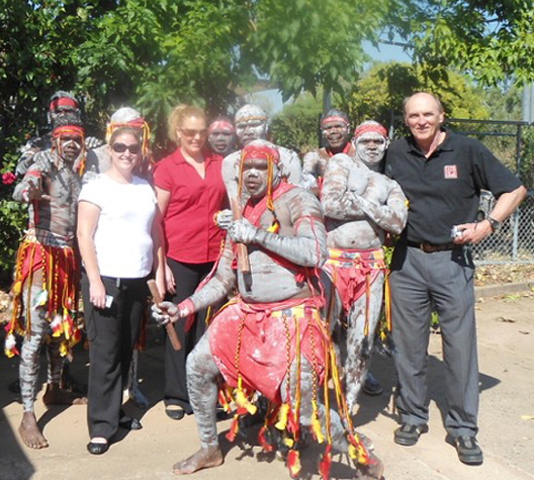 Case study: Dental Blitz With The Larrakia Nation, Darwin, Northern Territory (2012)
Posted on August 1st, 2018
FTG was approached by the Larrakia Nation Aboriginal Corporation (LNAC) to assist in a 'dental blitz' in Darwin. The LNAC, through the HEAL program, had mobilised a coalition of interested groups and social forces including St Vincent de Paul and Northern Territory Department of Health, Oral Services (OHSNT). The aim was not specifically to meet the needs of the Larrakia Nation people but for the predominantly Aboriginal population who were homeless around Darwin; arguably this group is one of the most marginal and vulnerable groups in Australian society.
The OHSNT made clinical facilities available at the Darwin Dental Clinic (DDC) for FTG volunteer teams, and conducted an orientation/induction day prior to commencing activities. The FTG team, the DDC staff and the HEAL coordinator, revised treatment protocols to specifically meet the needs of this situation; particularly because there would be unknown medical histories such as rheumatic fever and perhaps undiagnosed Type 2 Diabetes. Special attention was also devoted to changing procedures for early morning patients and ensuring that patients were prepared food-wise and made comfortable prior to any treatment.
The logistics and transport were in the hands of the HEAL coordinator who collected people from known gathering places with a number of vehicles, and set up post-operative care arrangements, further assistance with these practical details, especially transport and meals was provided by Ozanam House (a St Vincent de Paul institution).
The partnership activity was a notable success and consequently engendered a great deal of confidence from OHSNT in the professionalism and outcomes delivered by FTG. This developing relationship and confidence in FTG services was important in another project which would be conducted later in Darwin.
Another outcome of the program that is clear, from work in Wuchopperen and from this initial work in Darwin, was that the program was enabling cross-cultural relationships and learnings.  One of the dental assistants who volunteered in Darwin in 2012 described it this way
"I feel privileged to be involved in the FTG program in a 'hands on way', and look forward to the possibility of again volunteering to assist in such a beautiful and worthwhile cause.  Meeting the Larrakia people and hearing their stories, has, enlightened me in a way, that at times, made me feel both incredibly happy and incredibly sad."
Another testimony from a volunteer on the project demonstrated the importance of the partnership approach and having buy in from all parties
"I had an amazing time it was a fantastic experience, one that I will never forget! The patients were fantastic. The organising details were fantastic…getting everyone appointments and getting them in the chair.  Staff at the Darwin Dental Clinic were especially helpful, they were always happy to lend a hand…"
The success of the 'dental blitz' and contribution of FTG volunteers was recorded in the in the Larrakia Nation newsletter.