Faiza Ahmad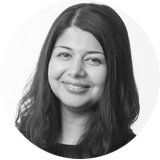 Faiza Ahmad started as Head of Communications and Public Affairs at ADA NSW in October 2020.
Faiza has previously worked as National Communications Manager at The Smith Family. In this role she developed integrated communications strategies to grow brand awareness and consideration amongst The Smith Family's target audiences. She was responsible for the development of tailored content across multiple channels (including social media content, key messages, talking points, website content, video content, infographics and publications).
Prior to this she worked as National Promotions Manager, Retail and National Promotions Co-ordinator, Retail at the Australian Broadcasting Corporation (ABC).
Faiza has also worked as Senior Accountant, Consumer Industrial Markets at KPMG Australia where she conducted financial statement audits and provided advisory services as part of a team to a number of large organisations.
array(17) { ["custom_css_post_id"]=> int(718) ["nav_menu_locations"]=> array(1) { ["top"]=> int(10) } ["ftg_donate_display"]=> string(4) "show" ["ftg_under_construction"]=> string(4) "hide" ["ftg_signup_display"]=> string(4) "show" ["ftg_site_status"]=> string(6) "normal" ["custom_logo"]=> int(8583) ["header_text"]=> int(0) ["ftg_contact_address"]=> string(51) "Level 1, 1 Atchison Street
St Leonards NSW 2065" ["ftg_contact_phone"]=> string(14) "(02) 8436 9942" ["ftg_contact_email"]=> string(26) "smile@fillingthegap.org.au" ["ftg_editor_display"]=> string(4) "hide" ["sidebars_widgets"]=> array(2) { ["time"]=> int(1551911490) ["data"]=> array(2) { ["wp_inactive_widgets"]=> array(0) { } ["home-bottom"]=> array(1) { [0]=> string(16) "wpforms-widget-2" } } } ["ftg_donate_url"]=> string(47) "https://www.fillingthegap.org.au/christmassmile" ["ftg_login_function"]=> string(4) "hide" ["ftg_contact_person"]=> string(0) "" ["ftg_sponsor_display"]=> string(4) "hide" }