Dr Sarah Raphael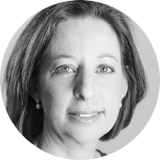 Dr Sarah Raphael is the Acting General Manager of Filling the Gap. An enthusiastic advocate for finding achievable solutions for the improvement of oral health for all Australians, she works closely with NSW Health, the University of Sydney and other key stakeholders on Filling the Gap and ADA NSW programs. Sarah is committed to taking Filling the Gap to new heights by growing the volunteering opportunities and dental aid programs, improving public awareness of the importance of good oral health and continuing to advocate for better oral health for all Australians.
Graduating from University of Adelaide with a Bachelor of Dental Surgery and initially working in rural and remote areas of South Australia, Sarah made the move to Sydney to pursue further studies. She completed a Master's degree in Paediatric Dentistry, Graduate Certificate in Higher Education and Fellowship with the Royal Australasian College of Dental Surgeons.
Over her career spanning 30 years, she has been involved in many varied aspects of the profession – holding positions in clinical dentistry, university teaching and providing research and education consultancy services to Colgate Oral Care for almost 20 years. Sarah has been involved in many local and national committees including ANZSPD, AAPD, RACDS, the Australian Dental Council and served as a board member for the ADA NSW Centre for Professional Development. Sarah also continues to follow her research interests in oral health and preventive product technology, holding an honorary position with the University of Sydney School of Dentistry.
array(17) { ["custom_css_post_id"]=> int(718) ["nav_menu_locations"]=> array(1) { ["top"]=> int(10) } ["ftg_donate_display"]=> string(4) "show" ["ftg_under_construction"]=> string(4) "hide" ["ftg_signup_display"]=> string(4) "show" ["ftg_site_status"]=> string(6) "normal" ["custom_logo"]=> int(8583) ["header_text"]=> int(0) ["ftg_contact_address"]=> string(51) "Level 1, 1 Atchison Street
St Leonards NSW 2065" ["ftg_contact_phone"]=> string(14) "(02) 8436 9942" ["ftg_contact_email"]=> string(26) "smile@fillingthegap.org.au" ["ftg_editor_display"]=> string(4) "hide" ["sidebars_widgets"]=> array(2) { ["time"]=> int(1551911490) ["data"]=> array(2) { ["wp_inactive_widgets"]=> array(0) { } ["home-bottom"]=> array(1) { [0]=> string(16) "wpforms-widget-2" } } } ["ftg_donate_url"]=> string(47) "https://www.fillingthegap.org.au/christmassmile" ["ftg_login_function"]=> string(4) "hide" ["ftg_contact_person"]=> string(0) "" ["ftg_sponsor_display"]=> string(4) "hide" }