Claire Rawlinson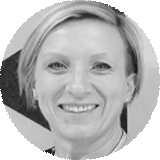 Having worked as a dental hygienist in the UK for 17 years and prior to that as a dental assistant for 6 years it could be said that dental has been my life!
I studied dental hygiene at Guys hospital, London before returning to Yorkshire where I practiced until we moved south to Kent in 2004. Whilst in Yorkshire I worked in a variety of dental surgeries and also treated inmates at Armley prison, the first hygienist to do so. During my years as a hygienist I have worked on the dental clinics at dental schools, I worked at a variety of dental surgeries and also worked in a specialist periodontal and implant surgery before leaving the UK.
On moving to Kent I lived and worked there for 7 years before we decided as a family to take an adventure to the other side of the world and we arrived in Sydney November 2011.
After settling my family into life in Australia I took a chance of a change of career and became a qualified personal trainer. I initially worked in a gym setting then decided to branch out and set up my own studio. I thoroughly enjoyed my time in the fitness world as I genuinely love being in the outdoors and keeping fit is one of my passions. Since being in Sydney I have taken part in Coastrek 50km/60km four times and have completed Oxfam Trailwalker 100km three times.
I am now the Program and volunteer coordinator with filling the Gap and NSW Coordinator ADHF and thoroughly enjoying being back in the world of dentistry and furthermore having the ability to help those less fortunate individuals to access much needed dental care.
array(17) { ["custom_css_post_id"]=> int(718) ["nav_menu_locations"]=> array(1) { ["top"]=> int(10) } ["ftg_donate_display"]=> string(4) "show" ["ftg_under_construction"]=> string(4) "hide" ["ftg_signup_display"]=> string(4) "show" ["ftg_site_status"]=> string(6) "normal" ["custom_logo"]=> int(8583) ["header_text"]=> int(0) ["ftg_contact_address"]=> string(51) "Level 1, 1 Atchison Street
St Leonards NSW 2065" ["ftg_contact_phone"]=> string(14) "(02) 8436 9942" ["ftg_contact_email"]=> string(26) "smile@fillingthegap.org.au" ["ftg_editor_display"]=> string(4) "hide" ["sidebars_widgets"]=> array(2) { ["time"]=> int(1551911490) ["data"]=> array(2) { ["wp_inactive_widgets"]=> array(0) { } ["home-bottom"]=> array(1) { [0]=> string(16) "wpforms-widget-2" } } } ["ftg_donate_url"]=> string(47) "https://www.fillingthegap.org.au/christmassmile" ["ftg_login_function"]=> string(4) "hide" ["ftg_contact_person"]=> string(0) "" ["ftg_sponsor_display"]=> string(4) "hide" }